I'm Amy Jones, a French American artist and illustrator based in Paris. I make hand-lettering and super cute illustrations for brands.
BIC, Lego x Disney, Cabaïa, Le Parfait, Club Med, Yves Rocher, Zespri, My Jolie Candle, Vertbaudet, Chronodrive, Fiskars, Innocent, BZB, Lipault, KPMG, Intrépide Studio and many more...
Loads of love, love, and more love
Amy has been accompanying us for several years with great talent and professionalism on various artistic projects: product co-creation, workshops and in-store animations, content creation, and even window painting. It's simple, she can do everything, and she does it wonderfully well, with a lot of passion and creativity to top it off. A gem for successful collaborations.
Amy successfully met the challenge we had set for her: to imagine a world around the environment and paint it in a very limited time on poorly suited surfaces (recycled plastic benches!). Her enthusiasm, positive energy, and determination made all of this possible. The result exceeded our expectations, and both our clients and the general public were delighted.
We had been noticing Amy's achievements for months already... As soon as we signed the contract for our new offices, we contacted her! What a joy! What a meeting! Both on a personal and professional level. She gave our offices a soul, and every day, we enjoy our beautiful mural and the piano.
With Amy, the connection was immediate, both with our teams and with our clients. Her residencies at Club Med brought an innovative and creative touch to their stays. Collaborating with Amy is guaranteed happiness and success.
Revolvr had the opportunity to collaborate with Studio Jonesie on behalf of Zespri, a leading brand of premium-quality kiwis. This annual collaboration resulted in numerous elements (bowls, produce bags, tattoo boards, cards, coloring materials, etc.) that enhanced the brand, bringing a vibrant and colorful creative touch!
And, above all, delighted both the young and the old!
Setting up a collaboration with Amy has been a real pleasure. Good ideas, an incredible and original penstroke. Our clients were delighted to discover the furoshikis created in collaboration with
Studio Jonesie.
I had the pleasure of working with Amy on an event production for Yves Rocher in March 2022. From the very beginning, we knew we wanted a giant collaborative mural that would be filled in by each guest. Amy not only brought this colorful mural to life perfectly but also made every participant feel comfortable with her infectious and vibrant joy of life, making this activity a real success.
Since 2015, I've been putting my creativity to work for inspiring brands with custom illustrations and lettering. My mission is to spread as much positivity, fun, and color as possible through my creations.
For your incredibly brands and customers, I create colorful works to convey your messages: murals, DIY, brand content, events… I can't wait to discover our next project!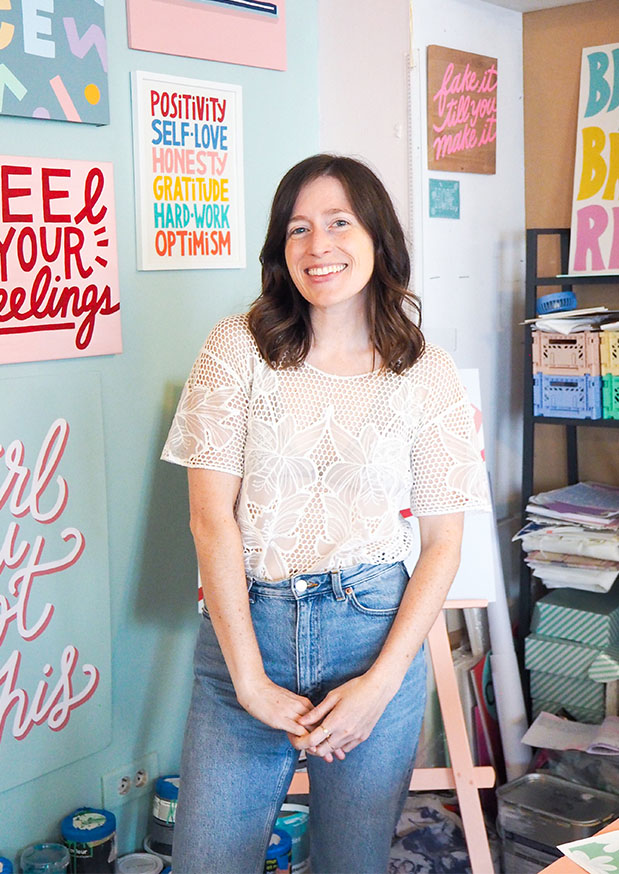 Shall we get to know each other?